Automatic Forging Is the Future! - Choose Your Own Automatic Hot Forging Machine Now!
2019-07-20 09:40:38
Why automatic forging lines are becoming more popular?
Due to the poor forging environment and the popularity of "machine replaces human" in the industrial sector, automatic forging line has gradually developed. Coupled with the pressure of high labor costs, the transformation of traditional machine into
automatic hot forging machine
has become a development trend and one of the major strategies of world's forging industry.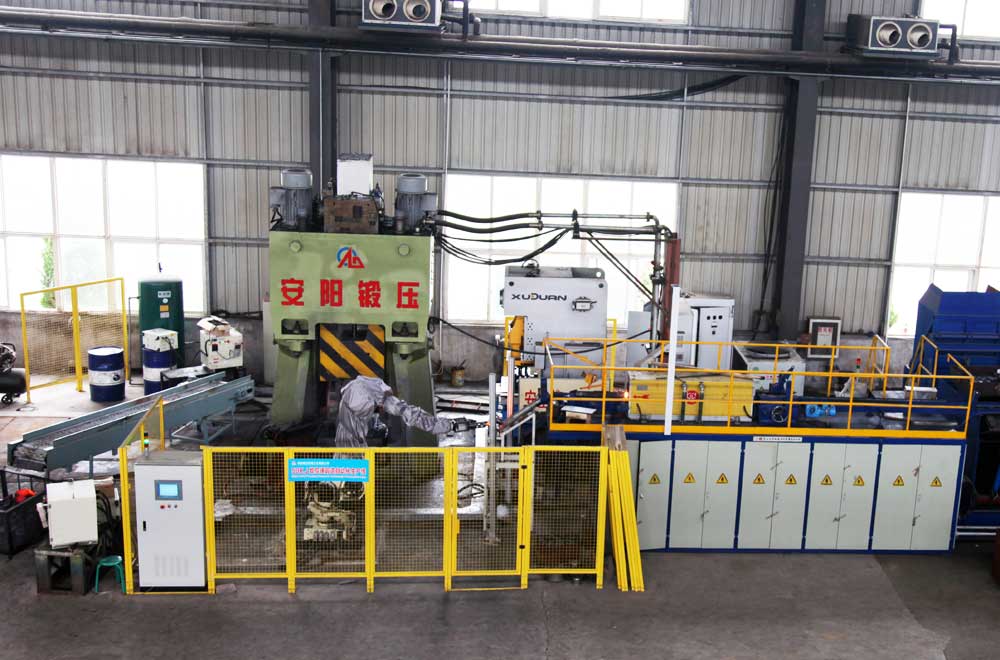 Automatic forging line
Advantages of automatic forging line?
High forging efficiency.
Stable quality of forgings.
Can do repetitive, dangerous work instead of people.
Reduce labor costs.
Effectively drive the transmission and upgrading of traditional forging industry.
What will affect the efficiency of automatic forging machine?
There are many factors affecting the production efficiency of forging automation lines. According to our experience, equipment use and maintenance management, process technology and quality assurance, and operation management are the key to improving the production efficiency of forging automation lines.
Equipment use and maintenance management.
Process technology and quality assurance.
Operation management.
Material preparation.
Production organization.
Mold and tooling management.
Which forging parts are suitable for automated line production?
After decades of development in the forging industry at home and abroad, as well as the continuous upgrading of the automated forging line, many mature automated forging production lines have been formed. Just equipped with robots and other essential auxiliary forging equipment, the automated forging line can be achieved.
Common automated forging lines include bearing automation,
nut automated forging line
, ball cage automation, wheel bearing automation, valve automation, gear automation, shaft flange automation, red punch automation,
steel ball forging automation
, partial shaft automation, half shaft automation , bounce automation, etc.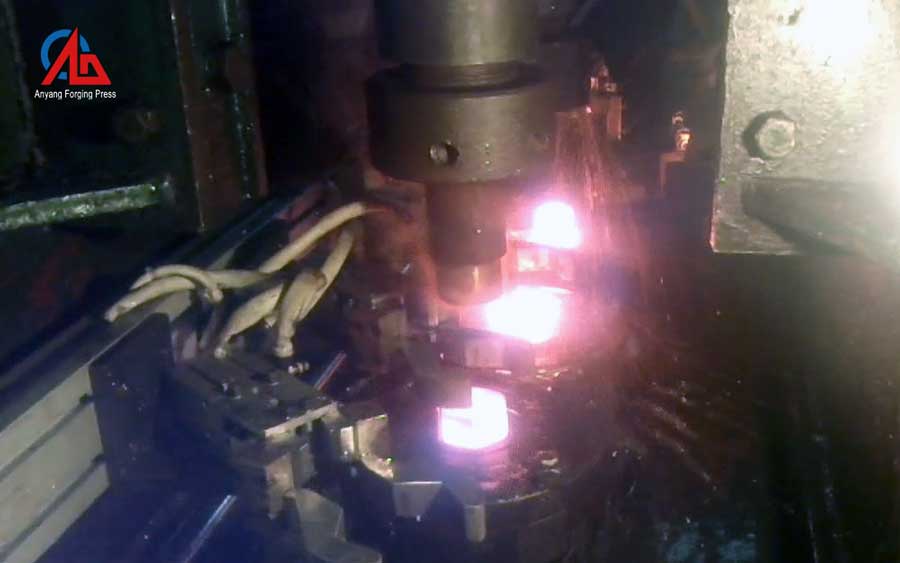 Automatic nut forging line
How to build a automatic forging line?
According to more than 60 years of experience in forging industry , combined with the opinions of many forging industry experts, we have summarized the following necessary conditions for the forging automation transformation.
High precision of each forging blank.
The shape of forging is simple, which is convenient for the robot arm to grab. Forgings with complicated structure can also be produced on the automation line, but the complicated structure is not convenient for the metal to fill the entire cavity, so it is difficult to realize forge automation.
The manual forging process for forgings has been matured, which is benefit for automation transformation of hot forging machine and reduce the scrap rate.
The service life of forging die is long enough. In the forging process, since the die replacement takes a lot of time and affects the production efficiency, it is necessary to ensure each mold on the same forging line has the same service life. The following is a general rule for the die life of some major forging equipment. Cross wedge rolling die and ring forging machine die have a long service life. Pre-forging equipment mold is higher than final forging equipment mold. Trimming and punching equipment die life is shorter.
The mounting position of the dies must be fixed. This is to ensure the robot can grab the forgings more accurately each time.
Large quantities, single varieties. In order to reduce the number of mold changes, the automated production line is more suitable for large-volume single-piece forgings. Like  standard parts, such as bolts, nuts, auto parts, vulnerable consumables, steel balls, motor, generator, etc.
The forging machine has necessary conditions for forging automatic transmission. Such as it can be connected to the PLC communication interface.
Forging machine users must have enough forging expertise.
Which hot forging machine is suitable for automatic transmission?
Hot forging press. Forgings have good precision and uniform thickness. The mold damage rate is low. It is also suitable for the production of forgings in large quantities and small varieties.
Mechanical forging press.
Electric screw forging press. The impact energy can be precisely controlled, good guide ability, simple structure, and short transmission chain.
CNC ring rolling machine. It is suitable for the production of forgings such as bearing rings, gear teeth, flat flanges and high neck flanges. It can be milled and expanded at one time, with high production efficiency and fine forging blanks.
Modified friction press
Hydraulic press
Cross wedge rolling machine
Roll forging machine
Highly automated furnace
Testing equipment

Automatic forging line with electric screw press in Russia
Where can I buy automatic forging line machine?
Anyang Forging was established in 1956. After more than 60 years of development, our hot forging equipment has been exported to more than 70 countries and regions including the United States, Britain, Germany, Russia, India, Japan, Australia, Vietnam, Romania, and Brazil. And we have provided automated production line services to customers in Russia, Vietnam, Iran, Turkey, Chile and other countries. As a benchmark for the Chinese forging industry, we have the ability to provide customers with turn-key projects and customized services for a variety of automated forging machine transmission.
New advanced automatic for forging machine from Anyang Forging Press
In order to meet the needs of more and more users for forging automation, combined with more than 60 years of experience in forging equipment production, our company has recently developed a series of forging auxiliary equipment to improve the production efficiency of users and realize the real automatic forging.
Automatic graphite spray machine. It is divided into fixed nozzles, moving nozzles and two-dimensional contour nozzles.
Electric screw press quick changeover device.
Multifunctional prestress insert die frame
Specially designed conveying equipment.
Scale removal device.
Robot.
Specially designed mechanical devices.
Positioning device.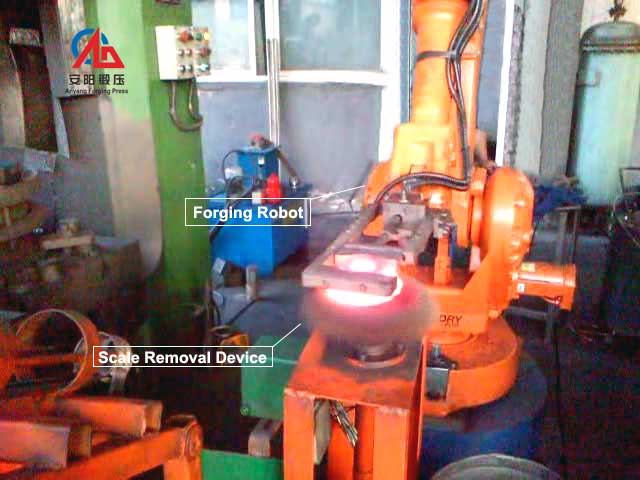 Robot and scale removal device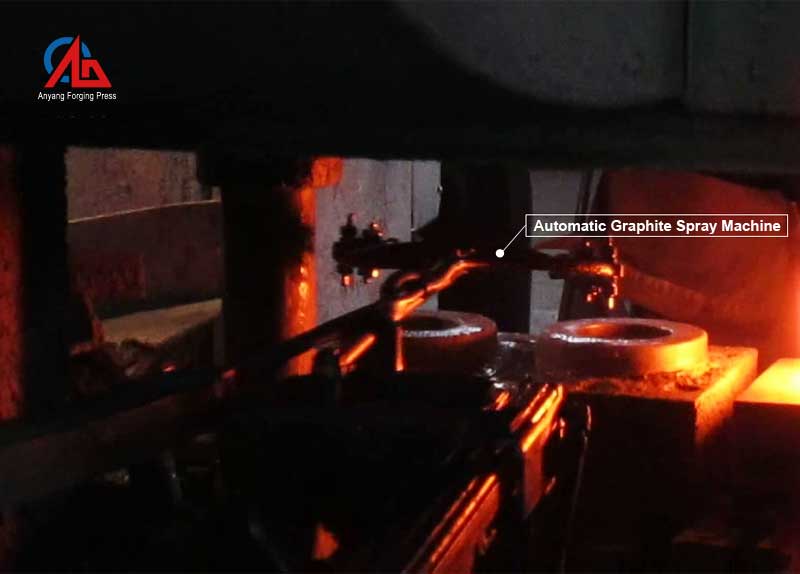 Automatic graphite spray machine
If you have any needs, please contact us, Anyang Forging Press will provide you with the most professional one-stop solution!